The SPM Suite program is suitable for COIL, ILCO, Torque Wrench and Riveter systems.
The SPM100 MAK5 control unit can work in slave mode with a Sofca standard industrial touch-screen PC by means of the SPM SUITE program installed on the PC.
The "SPM SUITE" program is an optional software for Windows that allows remote control of the Control Unit.
The program is able to recognize and connect to each Control Unit, which is identified by its serial number.
The program, loaded on a Windows PC, is conveniently usable in many fields such as production, maintenance and quality control.
The EVT COIL SUITE allows the following functionalities, on line and off line:
Remote control of the CCU to set and execute tightening programs; It is possible to start a tightening from PC only for applications designed specifically for automated operations.
Display the tightening graphic of the last cycle in high resolution and report the results
Store hundreds of thousands of cycle results
Export data in CSV or customized file to evaluate the production trends; data can be filtered by program, date/hour, tightening parameter, tightening result, clamp type
Copy and paste tightening parameters from one program to another inside the same Control Unit or among Control Units
Build, store and retrieve program backups
Transfer programs from PC to Control Unit and vice versa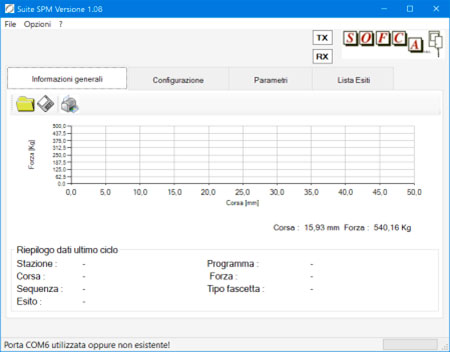 The main screen shows the tightening data after each operation
A GUI (Graphic User Interface) allows to easily configure the control unit and set the operating parameters of each tool.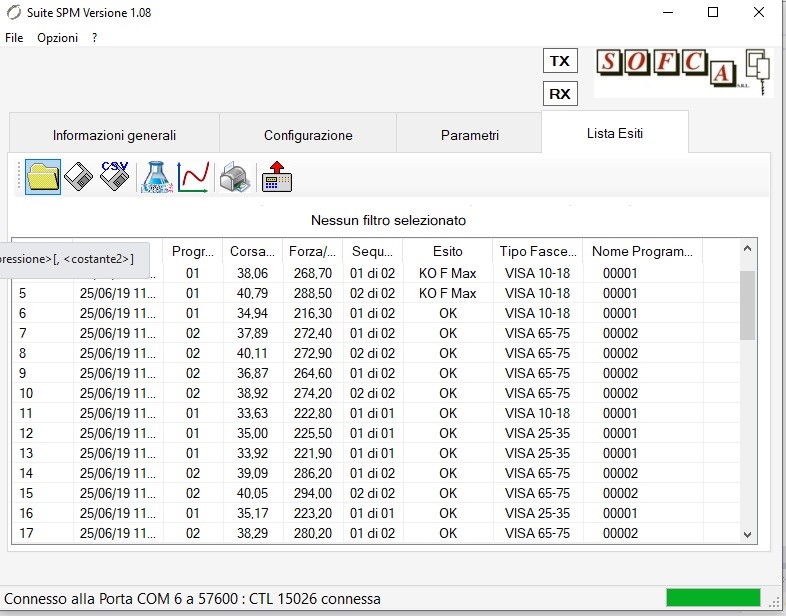 The information relating to all tightening operations is stored in the SUITE SPM system and can be viewed in the 'Results List' screen. This screen represents the list of tightenings performed with the values of the tightening parameters and the relative result.
You can insert filters into the data view
The results will be saved in text format, CSV and, upon request, on the Data Base.
It is possible to use the SPM SUITE program to see the graph and the result of the clamps performed by the CU, review the list with all the results, download the system configuration and the parameters of the various clamping programs set on the CU. Or, on the other hand, you can use the SPM SUITE program to create a system configuration, set the parameters of various clamping programs, download it all to the CU to make it fit for clamping operations.